FOUR YEAR STRONG ::: 29/07/17 ::: JAI CLUB
Postado em 06 de agosto de 2017 @ 01:39 | 81 views
Texto: Danielle Cameira
Fotos: Flavio Santiago
Agradecimentos: Mike e Lucas (SOLID)
Ao saber que os músicos do Four Year Strong incluiriam São Paulo entre as datas da turnê de aniversário de um de seus melhores álbuns, Rise Or Die Trying (2010), já era esperada uma grande festa. A expectativa pelo show só aumentava com as resenhas da passagem deles pela América do Sul. Mas na capital paulista o show foi além das expectativas e se tornou uma celebração do que há de melhor no pop punk. Dan O'Connor, Alan Day e companhia estremeceram o Jai Club no último sábado (29), de uma forma que dificilmente será esquecida.
Para nossa alegria, a banda cumpriu a palavra! Uma das músicas que mais agitou o público foi Heroes Get Remembered, Legends Never Die. E o trecho "sad enough to say that alone I could barely light a match but together we can burn this place down" não poderia ser mais significativo. Contagiado pela energia da banda, o público ajudou a estremecer a casa.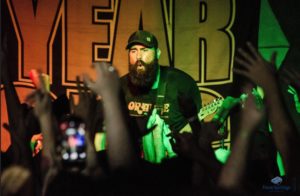 Acredito que assim como eu, muitas pessoas também tenham uma ligação emocional com o Rise Or Die Trying e isso fez com que o clima se tornasse ainda mais animado. O tamanho da casa também ajudou. Afinal, um verdadeiro show de pop punk não pode ficar sem dezenas de stage dives e muito empurra empurra dentro de uma casa pequena.
Depois de encerrar toda a tracklist do álbum da noite, a banda tocou sucessos de seus outros discos, como o mais recente selftitled Four Year Strong (2016)e o Enemy Of The World (2010). Find My Way Back e What The Hell Is a Gigawatt? foram pontos altos do show, mas foi com Wasting Time que a banda garantiu um dos melhores momentos do show. Ao anunciar que aquela seria a última música, convidaram todos a subir no palco. Foi a deixa que uma multidão se amontoasse ao lado dos músicos e cantasse com eles até o último segundo.
O show foi animado e exigiu bastante fôlego. Ele provou novamente que a banda executa perfeitamente as músicas de instrumental complexo e letras rápidas e extensas. Por isso continua se mantendo em posição de destaque no pop punk, mesmo após mais de 15 anos de estrada.
A turnê do Four Year Strong pelo Brasil foi uma realização da Solid Music Entertainment.
Setlist
The Takeover
Prepare To Be Digitally Manipulated
Abandon Ship Or Abandon All Hope
Heroes Get Remembered, Legends Never Die
Wrecked 'em, Damn Near Killed 'em
Catastrophe
Men Are From Mars, Women Are From Hell
Bada Bing! Wit' A Pipe!
Beatdown In The Key Of Happy
If He's Here, Who's Runnin' Hell?
Maniac (R.O.D)
We All Float Down Here
Find My Way Back
What The Hell Is A Gigawatt?
Go Down In History
It Must Really Suck To Be Four Year Strong Right Now
Wasting Time (Eternal Summer)
Notícias
·
Shows
---
Deixe seu comentário / Leave your comment
---