LESS THAN JAKE ::: 26/05/18 :::FABRIQUE CLUB
Postado em 01 de junho de 2018 @ 21:44 | 228 views
Texto e Fotos: Flavio Santiago
Agradecimentos: Solid Music (Lucas e Mike)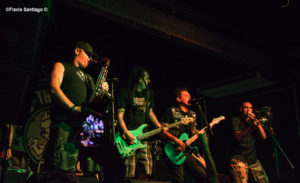 O Less than Jake enfim voltou ao Brasil  após longo período de ausência o publico compareceu em massa e o show foi sold out, a banda fez um show no melhor estilo Less Than Jake, repleto de piadas e interação com os fãs, muito disso graças a Chris Demakes (guitarra e vocal) e Roger Lima (baixo e vocal) ambos  sempre muito receptivos não se cansam de agradecer ao publico presente e dizem que o show de São Paulo foi sem duvida o melhor da turnê, Roger que é português aumenta a interação entre o publico falando a boa e velha língua portuguesa
O show teve momentos memoraveis em musicas como: Bomb Drop, The Science of Selling Yourself Short, Last One Out of Liberty City e Dopeman, o publico ensandecido subia ao palco e abriam grandes circle pits na pista do Fabrique para surpresa e alegria da banda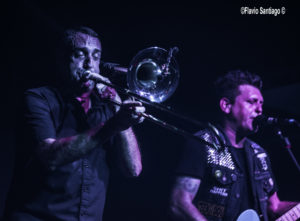 A banda combinou com o publico que voltaria ao Brasil a cada 2 anos e parece que ao que parece nao será suficiente para matar as saudades  mas com certeza serão bem vindos.
Para encerrar o show tivemos a trinca classica: The Rest of My Life (cantada em uníssono) All My Best Friends Are Metalheads e Gainesville Rock City
Show com selo de qualidade de diversão Less Than Jake que nos propiciam uma das melhores experiências no estilo.
SETLIST:
Sugar in Your Gas Tank
The Ghosts of Me and You
Dopeman
Plastic Cup Politics
1989
Johnny Quest Thinks We're Sellouts
Whatever the Weather
Look What Happened Overrated (Everything Is)
Bomb Drop
The Science of Selling Yourself Short
How's My Driving, Doug Hastings?
Never Going Back to New Jersey
P.S. Shock the World
Last One Out of Liberty City
Encore:
The Rest of My Life
All My Best Friends Are Metalheads
Gainesville Rock City
CONFIRA GALERIA DE FOTOS
Notícias
·
Shows
---
Deixe seu comentário / Leave your comment
---