MICHAEL BOLTON ::: 13/03/18 ::: ESPAÇO DAS AMÉRICAS / SP
Postado em 30 de março de 2018 @ 21:41 | 168 views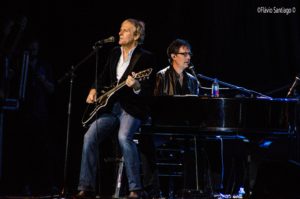 Fotos: Flavio Santiago
Agradecimentos: Miriam Martinez
O show "Uma Noite com o Vencedor do Grammy Michael Bolton" reuniu o The Best Of Michael Bolton, em uma noite inesquecível
Atemporal, este é o melhor adjetivo para descrever Michael Bolton, que é ganhador de múltiplos prêmios Grammy como cantor e compositor, Michael vendeu mais de 65 milhões de discos e continua anualmente a fazer turnês pelo mundo enquanto escreve e grava uma variedade de projetos abrangendo música, cinema e televisão.
Conhecido por sua voz marcante e letras emocionantes, assim como por seu charme e bela aparência que lhe renderam títulos como "Homem mais sexy da revista People", Michael já teve 9 álbuns no Top 10 da Billboard e 9 #1 singles. Em reconhecimento a suas conquistas artísticas, Michael ganhou 2 Grammys como Melhor Performance Pop Vocal (nomeado quatro vezes), 6 American Music Awards e uma Estrela na Calçada da Fama de Hollywood. Como compositor, ganhou mais de 24 Prêmios BMI & ASCAP, incluindo o Compositor de Canções do Ano, os Prêmios 9 Million-Air e o Prêmio Hitmakers do Hall of Fame de compositores.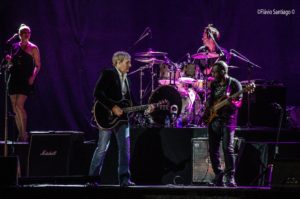 Internacionalmente reconhecido, Michael gravou e atuou com ícones musicais que inspiraram e influenciaram sua própria carreira. Luciano Pavarotti, a quem homenageia ao realizar a aria "Nessun Dorma" em cada um de seus concertos, Plácido Domingo, José Carreras e Renee Fleming e tocou guitarra com BB King.
Entre seus maiores sucessos como cantor estão "Thats What Love is All About", "How Am I Supposed to Live Without You", "When A Man Loves a Woman", "When Im Back in My Feet", "How Can We be Lovers", " Georgia on My Mind ", "Missing You Now", "To Love Some Somebody" e "Said I loved You…But I Lied".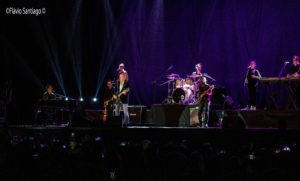 As músicas e performances de Michael foram apresentadas em inúmeras trilhas sonoras de televisão e filmes, incluindo a música temática "Go the Distance" do do filme animado Hercules, de Walt Disney, que foi nomeada ao Oscar e a trilha do recente filme de Russell Crowe, Fathers & Daughters.
SETLIST
Stand by Me (Ben E. King cover)
To Love Somebody (Bee Gees cover)
(Sittin' On) The Dock of the Bay (Otis Redding cover)
Said I Loved You…but I Lied
You Don't Know Me (Eddy Arnold cover)
That's Life (Marion Montgomery cover)
Go the Distance
Make You Feel My Love (Bob Dylan cover)
How Am I Supposed to Live Without You
Ain't No Mountain High Enough (Marvin Gaye & Tammi Terrell cover)
The Prayer (Céline Dion cover)
Sweet Home Chicago (Robert Johnson cover)
Saxophone Solo (You Are So Beautiful)
When a Man Loves a Woman (Percy Sledge cover)
How Can We Be Lovers
Forever Isn't Long Enough
Time, Love & Tenderness
Encore:
Soul Provider
CONFIRA GALERIA DE FOTOS
Notícias
·
Shows
---
Deixe seu comentário / Leave your comment
---