NO FUN AT ALL :::07/12/19 ::: THE HOUSE / SP
Postado em 01 de janeiro de 2020 @ 21:20 | 369 views
Texto e Fotos: Flavio Santiago
O No Fun At All já é daquelas bandas cativas que vem ao Brasil de tempos em tempos e cada apresentação dos suecos por aqui é festejada como se fosse a primeira e os fãs sempre comparecem em massa, desta vez nao foi diferente e contou com a abertuta das bandas Wisemann e um show antológico do White Frogs de Santos, que por si só já valeu a noite e mostrou todo o seu poder de fogo em um show irretocável, o publico que no começo assistia ao show timidamente, logo se rendeu a musicalidade da banda e formaram os primeiros circle pits da noites.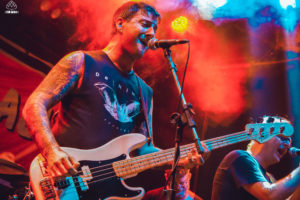 Em seguida foi a vez dos donos da noite mostrarem para o que vieram e sem muita firula abrem a noite com uma trinca matadora Spirit , Wow and I Say Wow e Should Have Known  nessa altura do campeonato o The House era um aglomerado de pessoas pulando, nos circle pits e stage dives, a banda ao vivo imprime um ritmo impressionante e mal da tempo dos fãs se recuperarem e logo outro petardo é tocado, o vocalista da banda Ingemar ainda que de forma timida tem boa interação com os fãs e lá pro meio do show conversa com um garoto que havia subido ao palco.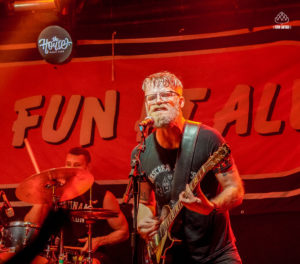 A banda como sempre entregou aos fãs musicas de todos os seus álbuns e tocadas de maneira ensandecida , foram 26 musicas tocadas em pouco mais de 1 hora de show, como sempre os fãs sairam mais que satisfeitos e a banda com sua missão cumprida.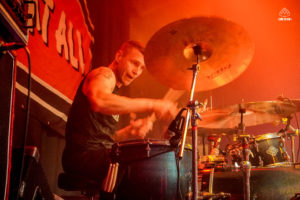 Aguardamos ansiosos a volta dos suecos ao Brasil uma vez que estão em estúdio para gravação de um novo álbum
SETLIST
Spirit
Wow and I Say Wow
Should Have Known
Lose Another Friend
Suitable Victim
Sorry to Say
Suicide Machine
Runner's High
I Can't Believe It's True
I Am Wrong and I Am Right
Perfection
Growing Old, Growing Cold
The Humdrum Way
It's All Up To You
In a Moment
Celestial Q&A
Beachparty
Catch Me Running Round
Encore:
Beat 'em Down
Strong and Smart
Where's the Truth
Out of Bounds
Master celebrator
Encore 2:
Believers
GALERIA DE FOTOS: NO FUN AT ALL
GALERIA DE FOTOS: WHITE FROGS
GALERIA DE FOTOS: WISEMAN
Notícias
·
Shows
---
Deixe seu comentário / Leave your comment
---