Polêmico The Dwarves confirma turnê na America do Sul em Agosto, divulgando o recém lançado "Take Back The Night".
Postado em 27 de maio de 2018 @ 17:23 | 66 views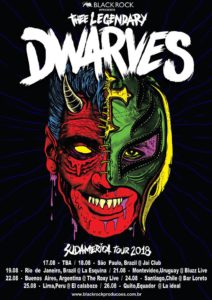 A banda de Punk Rock Norte Americana, The Dwarves, acaba de anunciar 8 datas pela América do Sul. A banda que é o terror dos politicamente corretos, fará as seguintes datas:
17/08 –  TBA
18/08 –  São Paulo, Brasil @ Jai Club
19/08 –  Rio de Janeiro, Brasil @ La Esquina
21/08 –  Montevideo, Uruguay @ Bluzz Live
22/08 –  Buenos Aires, Argentina @ The Roxy Live
24/08 –  Santiago, Chile @ Bar Loreto
25/08 –  Lima, Peru @ El calabozo
26/08 –  Quito, Equador  @ La ideal
Formado em 1985, em Chicago, Illinois/EUA, o The Dwarves possui letras que costumam chocar as pessoas, e que falam sobre drogas, sexo e escatologias em geral.
Os shows da banda atraem fãs de Punk, Hardcore, Rock e Metal em geral, tornando-se uma grande festa.
O The Dwarves já teve diversas formações, os músicos usam pseudônimos, mas não podemos deixar de citar que o baixista é Nick Oliveri (ex-Queens of the Stone Age/Mondo Generator) e o renomado baterista Josh Freese, que já gravou dezenas de discos, tendo tocado com inúmeras bandas de renome, nos EUA.
A formação atual traz Blag Dahlia (vocal), He Who Cannot Be Named (guitarra), The Fresh Prince Of Darkness (guitarra), Nick "Rex Everythin" Oliveri (baixo) e Josh "Black" Freese (bateria).
Eles possuem 13 álbuns, sendo "Take Back The Night", o mais recente, lançado no início de 2018.
O The Dwarves é descrito como "um dos últimos verdadeiros bastiões da ideologia do punk rock na era musical contemporânea".
Assista o "The Dwarves" numa apresentação realizada em Los Angeles, em dezembro de 2017:
https://www.youtube.com/watch?v=Z2irIogfBm8
A tour é de responsabilidade da Black Rock.
Páginas relacionadas:
https://www.facebook.com/TheDwarves/
Notícias
---
Deixe seu comentário / Leave your comment
---