Sinaya: Baquetas Toke signature de Janaina Melo, disponíveis para venda
Postado em 25 de março de 2020 @ 22:54 | 47 views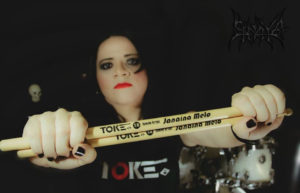 Está disponível para venda as baquetas Toke signature da baterista da Sinaya, Janaina Melo – da parceria fechada recentemente.
Para comprar, acesse:
https://sinayaofficial.loja2.com.br/9353077-Baquetas-Toke-5A-ou-5B-Signature-Janaina-Melo?fbclid=IwAR2aTlSGIz1PmMDSutNwWI2A9XXvYx-pKg3vyaGS5UWjItvLz-0rYIis04g
No fim de 2019, a Sinaya lançou o videoclipe de "Riddle Of Death". Assista;
https://www.youtube.com/watch?v=HfEI_6i7zU8
E o single de "Riddle Of Death" também já está disponível em diversas plataformas digitais.
A formação da Sinaya traz Mylena Monaco (vocais e guitarra), Bruno Kozseran (guitarra), Eric Akune (baixo) e Janaína Melo (bateria).
Acompanhe a Sinaya em seus canais oficiais:
www.facebook.com/sinayaofficial
www.instagram.com/sinayaofficial/
www.youtube.com/user/sinayathrash
www.sinayaofficial.com
Notícias
---
Deixe seu comentário / Leave your comment
---